Needs Assessment, Identifying Our Needs: A Survey of Elders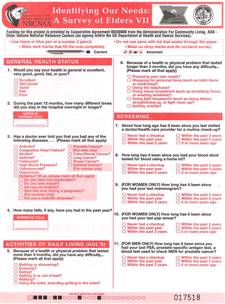 This survey assists tribes, villages, and homesteads in creating a record of the health and social needs of their elders. Survey results document the needs of your elders to help with tribal planning, long-term care discussions, and grant applications. The results also satisfy the requirement for Title VI nutrition and caregiving grants from the Administration on Community Living (ACL) which are awarded every three years.
Data is collected on: general health status, activities of daily living, vision, hearing and dental care, screening, healthcare access, tobacco and alcohol usage, weight and nutrition, social support/housing, demographics, and social functioning. The survey was constructed using questions from nationally administered questionnaires so comparisons could be made with data from the general U.S. population. When you participate you will receive your detailed results as well as a compilation of the results from all the Native elders surveyed. These results are compared to statistics from the general U.S. population to determine the extent of existing social and health differences.
Interested in participating? Begin right now. Read the How to Get Started guide and view the documents located in the Assessment Materials section.
For more information about the needs assessment, please contact Collette Adamsen at (800) 896-7628.
Native Americans (Title VI) Grants
For instructions on how to submit a new grant application or to request a continuation or revision contact the
Administration on Community Living
.