Needs Assessment, Identifying Our Needs: A Survey of Elders
This survey assists tribes, villages, and homesteads in creating a record of the health and social needs of their Elders. Survey results document the needs of your Elders to help with tribal planning, long-term care discussions, and grant applications. The results also satisfy the requirement for Title VI nutrition and caregiving grants from the Administration on Community Living (ACL) which are awarded every three years.
The following services are provided free of charge to participating organizations:
Preparing the needs assessment survey
Scanning the surveys
Cleaning data with statistical software
Data analysis
Modeling the data
After the data analysis is completed, the NRCNAA provides data results to the organization via frequency tables, and comparison sheets. Past participants in the needs assessment have the added benefit of trend data to determine if changes are occurring among chronic disease rates, functional limitation, exercise, and other variables.
Why should we trust the NRCNAA with our data?
To participate, informed consent and tribal approval is required.
Tribal ownership over the data is ensured to protect sovereignty.
In compliance with the University of North Dakota Institutional Research policies, the NRCNAA upholds strong ethics in conducting research.
The NRCNAA will never authorize the release and/or use of data without the explicit consent of the tribal council/government.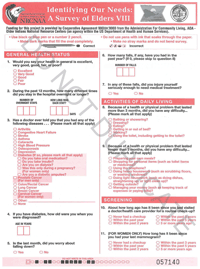 Cycle VIII needs assessment is for the next Title VI grant-funding period, April 1, 2023 - March 31, 2026. Applications are due to the ACL/AoA on December 5, 2022.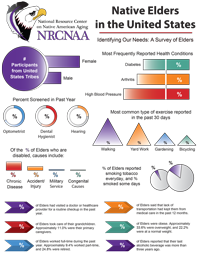 Data Request for Identifying Our Needs: A Survey of Elders Cycles I – VII
* Must have tribal authorization and permission to request tribally specific data.