NRCNAA Celebrates 25 Years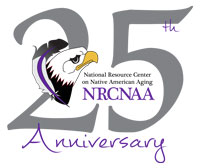 About 70 people attended the 25th anniversary celebration for the National Resource Center on Native American Aging (NRCNAA) December 18 at the Alerus Center in Grand Forks. The keynote speaker was Donald Warne, associate dean of Diversity, Equity, and Inclusion at the University of North Dakota School of Medicine & Health Sciences (UND SMHS).
Receiving Recognition
Along with celebrating the NRCNAA's milestone anniversary, several former directors and advocates for the organization were honored as well. Among those recognized for their service were:
Leigh Jeanotte
For more than 43 years, Leigh worked on behalf of American Indian students and tribal communities. He was the first director of the NRCNAA (1994-1995).
Alan Allery
Alan worked with American Indian people for 30 years – 15 years with Indian Health Service and 15 years with UND, including his time as NRCNAA director from 1995 until his death in 2007.
Richard Ludtke
Former NRCNAA Director of Research (14 years).
Leander "Russ" McDonald
President of United Tribes Technical College and former NRCNAA Director (2007-2009).
Twyla Baker
President of Nueta Hidatsa Sahnish College and former NRCNAA Director (2009-2013).
Paula Morin-Carter
Health Promotion Disease Prevention Coordinator, Billings Area IHS Office and former NRCNAA Director (2013-2017).
Cynthia LaCounte
Director of the Office for American Indian, Alaska Native and Native Hawaiian Programs at the Administration on Aging, an agency of the Administration for Community Living.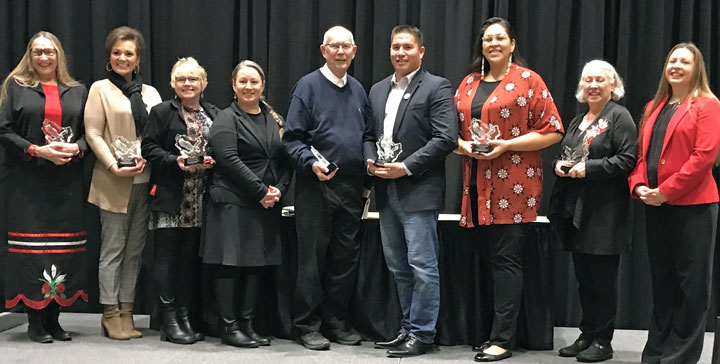 Proclamation
In addition, a proclamation signed by Governor Doug Burgum was read by Adamsen declaring December 18, 2019, Native American Elder Recognition Day. U.S. Senator Kevin Cramer also sent a letter congratulating the NRCNAA and applauding the program's efforts to improve the lives of Native American Elders across the country.
"Native American have traditionally placed a high value on respecting and caring for their Elders," Cramer wrote. "For the past 25 years, the NRCNAA has helped to meet the greatest challenges of serving aging American Indians. Affordable housing options, meal programs, long-term care, medical services, and legal assistance are among the issues faced by the elderly in tribal communities nationwide, and the NRCNAA has been a valued partner in successfully meeting these challenges."
Part of the Center for Rural Health at the UND SMHS, the NRCNAA's mission is to identify and increase awareness of evolving Native Elder health and social issues. The NRCNAA strives to empower Native people to develop community-based solutions.
View Highlights of Gala Event
View Video on the History of the NRCNAA