Heather Skadsem, NRCNAA Long-Term Support Services Tribal Liaison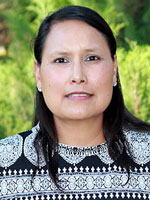 Heather Skadsem is the long-term support services tribal liaison with the National Resource Center on Native American Aging (NRCNAA) and the Native Aging in Place Project with the Center for Rural Health (CRH) at the University of North Dakota (UND) School of Medicine & Health Sciences in Grand Forks.
Among her responsibilities in this position, Heather serves as a resource for tribal Title VI directors by providing assistance regarding Title VI applications, NRCNAA needs assessment surveys, and long-term support services development in the tribal communities. She is a resource for American Indian/Alaska Native/Native Hawaiian aging issues for tribal and urban populations.
Originally from Warwick, North Dakota, Heather earned an associate of arts degree from Cankdeska Cikana Community College in Fort Totten, North Dakota, and a bachelor of university studies degree with an emphasis in business from Mayville State University. She also attended UND.
Prior to coming to the CRH, Heather was the Spirit Lake Tribe's senior services director. She helped establish the Spirit Lake Tribe's Quality Service Provider Agency along with the tribes' third-party billing for the agency and other program services.
Questions?
Contact Heather by calling (701) 350-0173 or send an email.