Brad Gibbens, NRCNAA Acting Director and Assistant Professor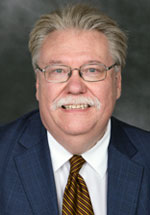 Brad Gibbens is the acting director of the Center for Rural Health (CRH) at the University of North Dakota (UND) School of Medicine & Health Sciences and an assistant professor at the School of Medicine & Health Sciences in Grand Forks.
During 2009-2010 he served as the interim co-director. His primary areas of responsibility are community development, community engagement techniques, program and grant development, qualitative research, program evaluation, and health policy. During his 32-year career with the Center, he served as the deputy director (2011-present), associate director (1991-2011), program director and principal investigator (PI) for the State Office of Rural Health (1992-2006), and program director and PI for the ND Flex Program (1999-2006). He is currently the PI on the Community Transformation Grant, funded by the CDC.
The Center for Rural Health is one of the country's most experienced rural health offices being formed in 1980 to serve as a focal point for rural health activity in North Dakota. The Center's primary functions revolve around providing technical and community assistance to healthcare providers and facilities, conducting provider and facility oriented social science and health services research, conducting health policy analysis, and advocating for rural concerns.
Brad works closely with health policy, government affairs, community development (including assessments, strategic planning, and community engagement), program and grant development, and information dissemination activities. Center programs that address community development include the State Office of Rural Health, Rural Hospital Flexibility, Small Hospital Improvement Program, Community Transformation Cooperative Agreement (CDC funded), Blue Cross Blue Shield of North Dakota Rural Health Grant Program, small program evaluation, and the Dakota Conference on Rural and Public Health. Brad was also the PI for the CDC Community Transformation and for a W.K. Kellogg-supported rural policy initiative Rural People, Rural Policy. He currently is the lead on four program evaluations and conducting qualitative research on three projects in the Center's Rural Health Reform Policy Research Center.
He has provided more than 250 presentations (national, regional, state, and community) on such subjects as Rural Health Trends and Issues, The Future of Rural Health, The Importance of the Community in Rural Health, State Rural Health Policy Activities, Health Reform and Rural Implications, The Role of the Health Sector in Community and Economic Development, Grant Development, and Health Planning. He has facilitated numerous strategic planning sessions and grant writing workshops. Brad has worked with more than 130 rural communities in his career.
Brad has secured more than $19.2 million in grants through 75 separate grant awards in collaborative efforts. He has provided leadership on rural health issues at a national and state level. He served as an alternate member to the North Dakota Health Task Force from 1990 to 1995. From 1993 to 2000, he served as a board member of the National Organization of State Offices of Rural Health (NOSORH), which represents all 50 state rural health offices and received its Recognition Award in 1996 and the Distinguished Service Award in 1999. He served on numerous NOSORH committees. He is an active member of the National Rural Health Association (NRHA), serving in its Statewide Health Resources Constituency Group. In 2010 and 2016, he was elected by his peers to serve on the NRHA Policy Committee and was selected by the NRHA president to serve on the Expanding Primary Care Committee. He is also currently a member of the NRHA Government Affairs Committee and the NRHA Medicaid Task Force for Health Reform. From 2006-2012 he served on the Executive Committee (and the Evaluation Committee) of the Great Plains Rural Policy Network, comprised of representatives from six states (a network of the W. K. Kellogg Foundation's Rural People Rural Policy initiative). He is currently a member of the North Dakota Steering Committee for the Flex Program having served as chair from 1999-2005. He is the past chair of the National Flex Tracking Project Advisory Committee. He is also a member of the Blue Cross Blue Shield of North Dakota Rural Technology Grant Review Committee.
Brad is a fourth-generation North Dakotan who grew up on a durum wheat farm in Maza Township in Towner County near Cando. He has his Master of Public Administration degree and a bachelor of science degree in public administration from UND.
Questions?
Contact Brad by calling (701) 777-2569 or send an email.