North Dakota Native American Veterans Stand Down Event
Spirit Lake Casino and Resort
June 7 @ 8:00 am – 5:00 pm
June 8 @ 8:00 am – 12:00 pm
The first statewide North Dakota Native American Veteran Stand Down will be held on June 7 and 8. This is a two-day event dedicated to bringing as many supports together in one location with the idea to connect Native Veterans with the resources they may need. The event will be held at Spirit Lake Casino and Resort in Devils Lake.
Stand Down is a military term used to describe a relaxed status or withdrawal from a state of alert or readiness. Stand Down is designed as an intervention to bring a wide range of essential services to Veterans, while raising their morale and awakening their motivation.
Who Should Attend?
Native American Veterans from all tribes in North Dakota Tribal Leaders Tribal Veterans Services Officers Government entities that serve Native American Veterans Non-governmental organizations serving Native American Veterans Family/Caretakers of Native American Veterans. The event is also open to spouses and caregivers of Veterans.
Why Attend?
The event will help Veterans learn about:
VA healthcare/benefits
VA home loans
Disability claims
Employment services
Social services
Education assistance
Housing/shelter
And more!
Register Now
Registration is required to attend one or both days of the event. The deadline for registration is May 31.
---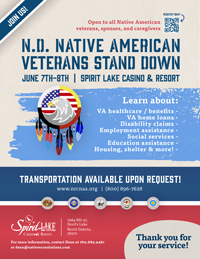 Help Spread the Word!