Courtney Davis Souvannasacd, NRCNAA Outreach Coordinator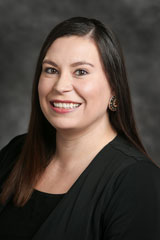 Courtney Davis Souvannasacd is an outreach coordinator with the National Resource Center on Native American Aging with the Center for Rural Health (CRH) at the University of North Dakota (UND) School of Medicine & Health Sciences in Grand Forks.
Among her responsibilities in this position, Courtney serves as a communications liaison between grant project leadership, researchers, funders, partners, and American Indian/Alaska Native/Native Hawaiian (AI/AN/NH) urban centers and tribal stakeholders. She is responsible for outreach, engagement, and recruitment of AI/AN/NH urban centers and tribal Title VI programs and serves as a resource person for AI/AN/NH aging issues for both tribal and urban populations.
Prior to joining the CRH, Courtney was a program coordinator for American Indian Student Services and the Native American Program liaison for the Grand Forks Public School District. She serves on the UND Indians into Medicine Tribal Advisory Board, High Plains Fair Housing Board, and the North Dakota Superintendent's Family Engagement Cabinet. She was a UND Grand Challenges Helping Rural Communities – Solving Health and Social Problems seed grant awardee and involved in the city of Grand Forks Indigenous Peoples Day resolution.
Originally from Belcourt, North Dakota, Courtney attended Turtle Mountain Community College and UND. She earned an associate of arts degree in business administration and a bachelor's degree in business administration – management. She has also earned a master's degree in educational studies, from UND, and has a graduate certificate in learning analytics.
Questions?
Contact Courtney by calling (701) 777-3720 or send an email.